Columbia, Missouri Pedestrian Accident Lawyers
Pedestrians hit by cars may have the right to pursue compensation. At Harper, Evans, Wade & Netemeyer, we will review your case to determine if the driver was negligent. If so, we will use our knowledge of Missouri pedestrian accidents law and our more than 100 years of combined experience to help you get the money you need to move forward with your life.
Our personal injury attorneys understand that pedestrian accidents often result in life-changing injuries, including head injuries and spine injuries, making it all the more important for us to move quickly to maximize your compensation. We are ready to help.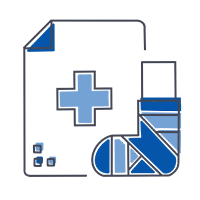 Crosswalk Accident Personal Injury Lawyers in Columbia, MO
Many accidents involving pedestrians hit by negligent drivers take place in crosswalks. Typically, these accidents are caused by negligent drivers looking for cars prior to turning, but failing to watch for foot traffic. As a result, the negligent driver will turn directly into a pedestrian walking with the signal in a crosswalk. Our Missouri pedestrian accident attorneys take pride in holding drivers accountable for the harm that comes from not recognizing that pedestrians have the right of way, particularly in crosswalks.
Other Pedestrian Accidents Resulting in Personal Injury Claims
Pedestrian accidents also commonly occur at the entrances of parking lots, alleys and driveways. For example, a negligent driver pulling out of a parking lot may drive right onto the sidewalk, stopping only at the street, hitting a pedestrian walking on the sidewalk in the process. We take action in cases involving this type of carelessness.
Free Consultation: Columbia Pedestrian Injury Lawyers
To schedule a free consultation, call us at 573-442-1660 or send us an email. We are happy to schedule consultations at your convenience. All pedestrian accident cases are handled on a contingency basis.
Think You May Have A Case?
Request A Case Evaluation