What To Do If You're
Injured in Kirksville, Mo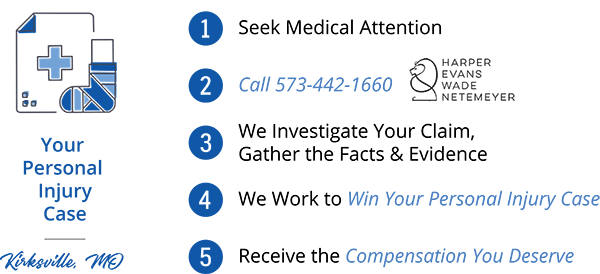 Free Personal Injury Case Review in Kirksville, Mo
The attorneys at Harper, Evans, Wade & Netemeyer will review your personal injury case free of charge. If we accept your case, we are only paid if we recover compensation for you. Call us at 573-442-1660 or send us an email to schedule a meeting with one of our experienced lawyers in Kirksville, Mo.
Recent News About Harper, Evans, Wade & Netemeyer in Mid-Missouri
Stay up to date on our team's successes in Kirksville and the state of Missouri.
We Handle All Types of Personal Injury Cases in Kirksville, Mo
Our personal injury lawyers Ron Netemeyer and Jill Harper have taken on a multitude of personal injury cases throughout Missouri. If you believe you have a personal injury case on your hands, our experienced attorneys in Kirksville, Mo are here to assist you! Whether you are involved in medical malpractice, a dog bite or auto accident, call today to schedule a meeting and begin talking with a lawyer. 
With experience in varying catastrophic injuries, as well as wrongful death you can trust Harper, Evans, Wade & Netemeyer is the right choice for you. Common claims we take on include: 
Frequently Asked Questions for Personal Injury
Think you might have a case?
There are three ways to contact us, all free of charge:
Get a Free Case Evaluation
Areas of Missouri We Can Help With Your Injury Case