Arm and Leg Injury Lawyers in Columbia, Missouri
If someone else's negligent actions have resulted in an injury to your arm or leg, you have the right to compensation. At Harper, Evans, Wade & Netemeyer, our lawyers have more than 100 years of experience helping people like you receive the full compensation to which they are entitled. We will take immediate action to see that the negligent party is held accountable, and you get the justice you deserve.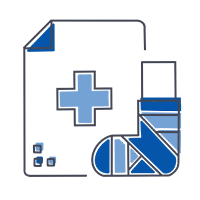 Columbia, Missouri Law Firm Experienced With All Types Of Personal Injury Claims
Our attorneys handle leg and arm injuries throughout the state of Missouri, and we understand just how severe these injuries can be. Because we rely on our arms and legs for so many of our daily tasks, even a seemingly minor injury can cause serious harm. Limb injuries can range from broken or fractured bones from a car accident to a crushed or severed extremity from a construction or machinery accident. 
Compound fractures, particularly of the legs, are an example of a type of injury that can take weeks or months to heal properly. Physical therapy may be necessary for a full recovery. Medical bills will be high, and substantial wages may be lost along the way.
We have seen injuries that involve more than just broken bones. Shoulder injuries, such as torn rotator cuffs, as well as knee injuries, such as anterior cruciate ligament (ACL) injuries, are extremely difficult to heal and may result in years of pain and mobility problems. In the worst cases, a leg or arm can be damaged so badly that it must be amputated. The loss of a limb is always life changing. If you have suffered any type of serious injury to your arms or legs, you deserve compensation. We have built our reputation on helping people like you get it.
Arm And Leg Injury Attorneys In Columbia, Missouri Fighting For You
When you are the victim of a serious injury, the last thing you need is one more thing to worry about. You need to be focused on your recovery, but that does not mean the person at fault should not be held legally accountable. Allow one of our experienced lawyers to take responsibility for your legal concerns, so you can focus on healing. To schedule a free consultation, call us at or or send us an email. We can schedule your appointment at the time that works best for you. All limb injury cases are handled on a contingency basis.
Think You May Have A Case?
Request A Case Evaluation