What to Do After a Car Accident in Columbia, Missouri
After a car accident, there are only two things you need to do: get medical attention and get a lawyer. The lawyers at Harper, Evans, Wade & Netemeyer are here to help.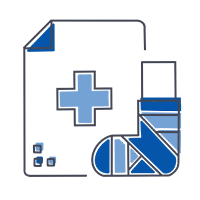 Focus Your Attention On Healing
While it should go without saying that your focus should be on getting medical attention and healing, our Columbia car accident attorneys understand that it is easier said than done. You may be reluctant to visit the doctor for fear of the costs involved. You may think that you can postpone surgeries or physical therapy so you do not have to deal with those expenses just yet. Unfortunately, these delays may be used against you.
When your case moves forward, the insurance company may argue that your injuries must not be as bad as you say if you did not pursue timely medical attention. The insurance company will try to diminish the severity of the situation and also the value of the claim. We encourage you to get medical attention now and do everything your doctor tells you to. As your lawyers, it is our job to pursue the compensation you will need to cover these expenses.
Hire an Experienced Personal Injury Attorney
With more than 100 years of combined experience, we know how to identify the full value of your claim. It may be worth far more than you think it is and far more than the insurance company is offering. Your case may need to go to trial in order to get you all the money you deserve, so you need experienced advocates like us on your side.
Free Consultation With A Lawyer Following A Collision In Missouri
To schedule a free consultation, call us at 573-442-1660 or send us an email. We are happy to schedule consultations at your convenience. All car crash cases are handled on a contingency basis.
Think You May Have A Case?
Request A Case Evaluation