Construction Accident Attorneys in Columbia, Missouri
Injured construction workers may be eligible to file a personal injury claim in addition to a workers' compensation claim. In these cases, personal injury claims are referred to as third-party claims, claims against some party other than the worker's employer. For example, the claim may be against another contractor working on the construction site. At Harper, Evans, Wade & Netemeyer, our attorneys take care to review all potential sources of compensation to make certain you get the money you need to move forward with your life.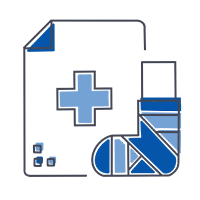 Construction Equipment Accident Attorneys
Many of the dangers present on a construction site are the result of the equipment being used. Cranes, bulldozers, excavators and other heavy equipment can be extremely harmful if used improperly or defective. Even smaller hand-held tools such as nail guns and saws can lead to devastating injuries in untrained or careless hands.
Because of the heights involved, construction accidents often involve falls. These falls may be the result of improper or unused fall prevention gear, unsafe scaffolding or even trenches and holes that have not been properly blocked off.
Construction Accidents Can Happen In Numerous Ways
Falling objects can also lead to serious injuries on construction sites. Even a small tool dropped from a few stories up can lead to a life-changing head injury. Many falling objects are much heavier, including girders, concrete blocks, window panes and other construction materials.
With more than 100 years of combined experience, our Columbia construction accident lawyers are skilled at identifying negligence on construction sites and taking action. Our attorneys have the experience to assist with your workers' compensation claim, as well as your personal injury claim.
Free Consultation: Columbia, Missouri Construction Worker Lawyers
To schedule a free consultation, call us at 573-442-1660 or send us an e-mail. We are happy to schedule consultations at your convenience. All construction work accident cases are handled on a contingency basis.
Think You May Have A Case?
Request A Case Evaluation