Head Injury Attorneys in Columbia, Missouri
Another person's negligent actions can cause a wide variety of accidents that result in head and brain injuries. Head impact can cause brain injuries that can take months or years to heal. Serious head injuries can be extremely costly, affect your ability to work and have an adverse effect on your future. You deserve representation from a lawyer who will fight for your rights and help to make certain that you receive the maximum amount of compensation for your injuries.
Harper, Evans, Wade & Netemeyer will be your advocate. We are a trusted source for legal representation in personal injury matters, including car, boat, motorcycle and construction accidents. Our attorneys take an aggressive and prompt approach to helping clients, and work to make certain they receive the compensation they deserve.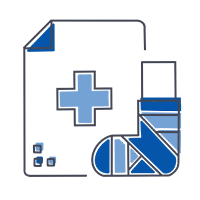 Hire a Skilled Personal Injury Lawyer in Columbia, Missouri
In various types of accidents — including slip-and-fall or vehicle accidents — head injuries are common. The damage resulting from an impact to the head can range from minor to permanent, depending upon the specifics of the impact. Passengers and drivers often hit their head when they are struck in a traffic accident. A head injury can lead to issues like concussion, traumatic brain injury and skull fracture.
A blow to the head can cause short- or long-term problems with memory, sight and hearing, and can result in recurrent headaches. Our experienced attorneys know the potential consequences of a head injury, and we fight in courtrooms throughout Missouri to ensure our clients receive fair financial compensation for the injury they have suffered.
Experienced Columbia Personal Injury Attorneys Fighting For Your Rights
After a serious accident, you need to focus your time and attention on recovering. A financial settlement will never be able to undo the damage the head injury caused. However, you deserve compensation in an amount that fully considers the impact your injury has had in all areas of your life. Once we take your case, one of our lawyers will immediately take responsibility for all aspects of the legal process, allowing you to focus on getting better.
If you have been injured, you need a strong advocate. Our Columbia head injury lawyers will make certain that your immediate and long-term needs are taken care of by helping you obtain the financial recovery you deserve. Contact us at 573-442-1660 to schedule a consultation.
Think You May Have A Case?
Request A Case Evaluation