Motorcycle Accident Attorneys in Columbia, Missouri
All too often, drivers of cars, SUVs, pick-up trucks and over-the-road trucks fail to keep a lookout and fail to yield the right of way to motorcycles. The results can be catastrophic, resulting in very serious injury or death. Even the most experienced motorcycle drivers are at a disadvantage against the much larger and heavier vehicles on the road. Bikers have limited protection to absorb the impact with other vehicles, as well as the road surface.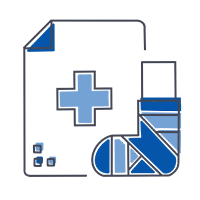 Compensation For Seriously Injured Motorcyclists in Columbia, Missouri
It is essential for bikers to use approved helmets and protective equipment. Head injuries, scarring from road rash, broken bones and internal injuries are common in accidents involving motorcycles.
Our firm has recovered millions of dollars for clients who were injured while operating a motorcycle. When you or someone you love has been injured in a motorcycle accident, let the experienced trial lawyers at Harper, Evans, Wade & Netemeyer help you.
We are committed to helping individuals and families recover maximum compensation for injuries resulting from the negligence of others. Contact us to schedule a free consultation with one of our experienced motorcycle accident lawyers by calling 573-442-1660 today.
Let Us Handle The Insurance Company After An Accident
Drivers of motor vehicles are expected to use the highest degree of care. Inexperience, lack of safety training, excessive speed, faulty safety equipment, distracted drivers and driving while impaired by alcohol can all result in tragedy. We will protect your rights and make negligent motor vehicle operators and their insurance companies fairly compensate you for your damages.
Don't try to take on the insurance company on your own. Signing documents and authorizations or making recorded statements for the insurance company can put you at an unfair disadvantage. Contact our firm immediately and put us to work handling your case today.
Contact Attorneys Who Know Missouri Motorcycle Injury Laws
If you or a loved one has suffered serious physical injury in a motorcycle accident, we can help. We know how to fight for our clients and help you recover money for your medical bills, lost wages and payment for your permanent injury. If you are too injured to come to us, let one of our experienced attorneys come meet you to discuss the specifics of your injury claim.
You can meet with one of our experienced injury attorneys today. We will review your case free of charge. We are only paid if we recover compensation for you. Call us at 573-442-1660 or send us an email for a free case evaluation at our office in Columbia, Missouri.
Think You May Have A Case?
Request A Case Evaluation