Columbia, Missouri Spine Injury Lawyers
People who have never suffered a spine injury often underestimate the severity of these injuries and the level of pain that can accompany them. Because the spinal cord is responsible for the communication between our body and brain, an injury to the spinal cord can result in a host of serious consequences. Spinal cord injuries require immediate and often intensive medical attention. If you or a loved one has been in an accident that caused a spinal cord injury, recovery should be your sole focus.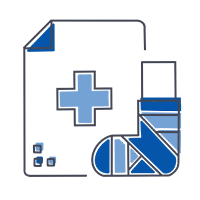 Leave Your Legal Concerns In Our Columbia, MO Personal Injury Attorneys' Capable Hands
If your injury was the result of another person's negligence, you are entitled to compensation. Obtaining assistance from an experienced lawyer allows your attention to remain where it belongs — focused on your healing. When pursuing a claim for this type of catastrophic personal injury, your lawyer must take great care to secure compensation that fully addresses what you have already suffered and to cover all future expenses.
At Harper, Evans, Wade & Netemeyer, our Columbia spine injury attorneys have more than 100 years of combined experience obtaining the compensation to which our clients are entitled.
We Understand Spinal Cord Injury Claims
Spinal cord injuries usually start when some kind of extreme physical impact dislocates or fractures one or more vertebrae, and pieces of the damaged vertebrae tear or compress the spinal cord. Spinal cord injuries are categorized as complete or incomplete, but even within each of these categories, the details of the damage can vary widely.
In the most severe cases — known as a complete spinal cord injury — paralysis occurs below the injury location where communication with the brain is no longer possible. With an incomplete injury, the spinal cord can still relay messages between the body and brain. Injuries such as herniated or slipped disks are more common than paralysis. No spinal cord injury should be considered minor; multiple surgeries may be required, and pain sometimes persists even after all surgical and other immediate medical options have been exhausted.
Experienced Personal Injury Attorneys Respecting The Seriousness Of Spine Injuries
Our lawyers handle these cases with the appropriate seriousness. From our experience with spine injuries, we know that the opposing party may try to minimize your injury or suggest it is less severe than we know it is. If necessary, we will take your case to trial and argue in front of a jury to prove exactly what you have suffered and how this injury has changed your life. We are committed to success.
To schedule a free consultation with a Missouri spinal surgery attorney, call us at 573-442-1660 or send us an email. We are happy to schedule consultations at your convenience. All spine injury cases are handled on a contingency basis.
Think You May Have A Case?
Request A Case Evaluation