Columbia, Missouri Hit-and-Run Personal Injury Attorneys
If you or a loved one has been involved in a Missouri hit-and-run accident, it is critical that you contact an experienced lawyer immediately. You may think that you do not have an opportunity to pursue compensation because the negligent driver did not stop and was not caught, but that may not be the case. At Harper, Evans, Wade & Netemeyer, we use our more than 100 years of combined experience to help you get the money you need.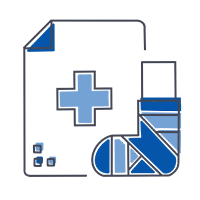 Call an Experienced Personal Injury Attorney Following a Hit-and-Run
Car accidents involving hit-and-run drivers are handled similarly to cases involving uninsured or underinsured motorists. A claim may be filed with your own insurance provider. This needs to be handled carefully, and it is important to understand that even your own insurance company is motivated to pay you as little as possible. That is why you need to have a dedicated attorney and advocate on your side to protect your rights.
What If There Was No Collision With The Negligent Driver?
Many hit-and-run accidents do not actually involve a hit, at least not between the negligent driver and the victim. The negligent driver may have simply done something that forced the victim to drive off the road and collide with a tree or building, or forced the victim to crash into another innocent victim, making matters even more complex. Even in these cases, opportunities to pursue compensation may be available. We will help you find them.
Free Consultation: Columbia, Missouri Auto Accidents Attorneys
To schedule a free consultation, call us at 573-442-1660 or send us an email. We are happy to schedule consultations at your convenience. All teen driver accident cases are handled on a contingency basis.
Think You May Have A Case?
Request A Case Evaluation