Slip-and-Fall Accident Attorneys in Columbia, Missouri
The injuries from a slip-and-fall case range from cuts and bruising to hip fractures, broken bones and even brain injury. According to the Centers for Disease Control and Prevention (CDC), falls are the leading cause of traumatic brain injuries, and nearly 20 percent of people who fall suffer at least moderate injury. Every year more than 300,000 people suffer disabling injuries from falls. In fact, 12,000 to 16,000 deaths occur a year from slip- or trip-and-fall accidents.
At the law office of Harper, Evans, Wade & Netemeyer, our lawyers are experienced in handling personal injury cases in Missouri. If you or a loved one has been injured after slipping and falling on someone else's property, call 573-442-1660 to schedule a free consultation today.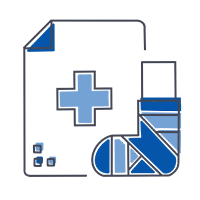 Columbia, Missouri's Slip-and-Fall Liability Experts
Falling on another person's premises doesn't mean that individual is liable for your injuries. In order for a person or business to be deemed negligent, you must prove the following occurred:
The condition of the property was dangerous for visitors.

The owner of the property was aware of the dangers.

The owner had ample time to fix the condition of the property, or at least warn visitors of the dangers.
Property owners have a duty to make sure their premises are safe for visitors; failing to uphold their duty could put your safety in jeopardy.
If you feel your slip-and-fall accident was caused by another's irresponsibility, our attorneys will fight to hold that individual accountable.
Hazards That Frequently Result In Personal Injury
Our firm handles all types of premises liability cases on behalf of seriously injured clients and the families of wrongful death or fatal accident victims, including those involving:
Slippery surfaces and slippery walkways

Hidden store dangers, such as wet floors

Pavement defects

Falling merchandise

Hazardous areas

Construction zones

Attractive nuisance, such as swimming pools or trampolines

Bad lighting or lax security leading to assault

Inadequate snow and ice removal

Oil spills at gas stations

Leaking toilets in restrooms

Parking lot falls

No rails on stairs
There are several categories of damages that can result from a slip-and-fall accident. The damages available to you will depend upon the details of your case, and one of our attorneys can work with you to determine the appropriate amount of damages. The types of damages are:
Loss of income

Medical bills, both present and future

Reduced mobility

Pain and suffering
Let An Experienced Slip-And-Fall Attorney Answer Your Questions
You can have a meeting with one of our experienced injury attorneys at Harper, Evans, Wade & Netemeyer today. We will review your case free of charge. If we accept your case, we are only paid if we recover compensation for you. Call us at 573-442-1660 or send us an email for a free case evaluation at our office in Columbia.
Think You May Have A Case?
Request A Case Evaluation