Columbia, Missouri Dog Bite Attorneys
Over 1,000 people go to the emergency room for dog bite injuries every day in the United States. Dog bite fatalities range from 10 to 20 people every year.
According to the Centers for Disease Control and Prevention (CDC), a reported 4.7 million Americans are injured by dog bites each year. Not all of those bites are life threatening; as a matter of fact, only 800,000 of those involved seek medical attention for their injuries.

At Harper, Evans, Wade & Netemeyer, our dog bite injury lawyers are experienced with cases involving serious injuries and complex factual scenarios. If you or your loved one has been bitten by a dog, call our Columbia office at 573-442-1660 today.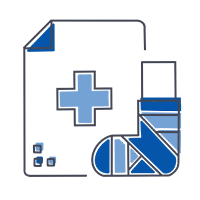 Hire an Experienced Personal Injury Attorney Following a Dog Bite
Over half of the 800,000 people who seek medical treatment for dog bite wounds are children. Children are the most vulnerable to injury from dog bites. The CDC found that children ages 5 to 9 suffered the highest rate of dog bites. Boys of this age were found to be more vulnerable than girls.
Contrary to belief, mixed breeds are more likely to bite than pure breeds, and male dogs 1 to 5 years in age are more likely to bite than a female of any age. Rottweilers and pit bulls are the breeds most often involved in canine-inflicted homicides.
Dog attack victims in the U.S. suffer over $1 billion in monetary losses every year from medical, legal and insurance costs. The vast majority of dogs (77 percent) that inflict injury belong to the victim's family or a friend.
Options For A Legal Claim After A Dog Attack
If you or a loved one has been attacked by an animal, we can bring a claim under several different causes of action to recover your damages.
Premises Liability

— Owner of an animal is liable for the foreseeable danger created by the normally dangerous propensities of their dog. Wilson v. Simmons, 103 S.W.3d 211 (Mo.App.W.D. 2003)

Common Law Negligence

— "One who possesses or harbors a domestic animal that he does not know or have reason to know to be abnormally dangerous, is subject to liability for harm done by the animal, but only if, (a) he intentionally causes the animal to do the harm, or (b) he is negligent in failing to prevent the harm." Restatement Second of Torts §518 quoted in Miles v. Rich, 2011 WL 1564030 (Mo.App.E.D.)) Applies only to possessors or harborers of animals.

Strict Liability

- Owner knows he/she has a vicious animal. Wilson v. Simmons, 103 S.W.3d 211 (Mo.App.W.D. 2003). Additional remedies set out in R.S.Mo §273.036
Have An Experienced Attorney Evaluate Your Claim And Damages
Dog bite victims often suffer lifelong scarring and disfigurement that require medical treatment and plastic surgery. We are dedicated to making sure our clients are compensated for their medical expenses, scarring, disfigurement, lost wages and emotional distress.
You can have a meeting with one of the experienced injury attorneys of Harper, Evans, Wade & Netemeyer today. We will review your case free of charge. If we accept your case, we are only paid if we recover compensation for you. Call us at 573-442-1660 or send us an email for a free case evaluation.
Think You May Have A Case?
Request A Case Evaluation